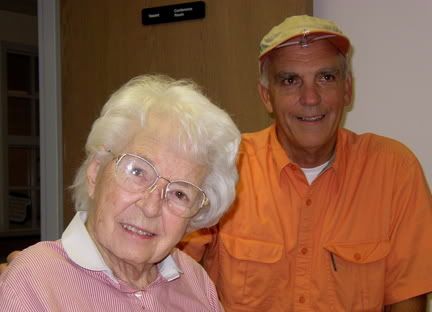 Friday, my grandmother had her 90th birthday and my father had his 60th birthday. Amazing. It's odd. I am never really effected by own count of birthdays (I'll be 35 in a couple of weeks) but other people's birthdays can downright traumatize me.

35 was a big one for Dearie. He said that was a real tough one. And I have friends that had a difficult time at turning 30 and 40. But so far, my own aging has not meant a whole lot to me. Now, my oldest turning 15 in a week is mind blowing. And my father and mother both turning 60 within a month is very startling. Dearie's father, who is closing in on 70 just had another mini-stroke yesterday. Maybe that is where it is getting me. Not that I am becoming middle-aged, but that my parent's are becoming old. I can't really be middle aged if I am still having babies! Can I? But my grandmother is 90...

My grandmother and I have always been very close. When we lived in northern Minnesota, I would call her and she would hang up on me because of the cost of long distance! I would tell her, "Grandma, long distance is like 5 cents a minute anymore. I have a dollar right here that says I can talk to you for 20 minutes. It's either that or I am sending you a CARD! That's right a greeting card! That will cost at least $2 and then there's the 30 cents for a stamp! Hah! How would you like that?!" of course she had to relent under such a threat.

She is a pistol (as my grandfather would say) She always told me about all the boys she dated and how my grandfather became so excited when he was moved up to her Saturday Night date, because that meant she really liked him. She didn't at first. They had grown up together. He was the tubby kid. But then he went away to boot camp and showed up at her door, svelt and in uniform. It was all over at that moment. He was in the Air Force and they married on one of his leaves. The only material they could get ahold of for her dress was his parachute. So, her wedding dress was quickly thrown together. It was later cut up to make Christening gowns that her sons have all been baptized in.

My grandfather died 20 years ago. My grandmother took in her mother (who was 90 and lived to be one month shy of her 100th birthday) She volunteered in a home for blind ladies so they couldn't see how old she was! and then about 3 years ago, she had a stroke. And that was kind of it. The light in her eyes just... blew out. just like that. She now suffers from dementia, the left side of her body is useless and heavy, and she is prone to crying jags. And sadder still, when she sees a man in the dining room and her heart is broken because she doesn't know why her husband is mad at her, and why he won't even come over and say hello.


She has no idea who I am. Sometimes she knows we are related, but she very very seldom knows it's me. I go have lunch with her every Monday and every Monday she tells me what a nice nurse I am and then breaks down crying. But, look at the picture again...There's still a glimmer there, isn't there? Look at her smile.
I can pretend, too. I can pretend that she was smiling at her granddaughter taking her picture and not at the wonderful baker who always gave her and her sister cookies from my store on Penrose Ave. but then, I can pretend that too. It seemed to make her so happy that I would come to see her and bring her a lovely cheesecake.

And yes, that is a rare picture of Skaterboy. Don't worry, the helmet on Porkchop is just a toddler obsession not a necessary precaution.